In the workshops in Aubagne in Provence, garden vases from 10 to 120 cm and pitchers, plates, dishes… are made every day.
The pots are all in terracotta, hand-made by wheel or moulding, in the workshops in Aubagne in Provence.
They are all round, from 10 cm to 120 cm in diameter. Pierced at the bottom for planting, except Basilic pots.
They are either historic terracotta clay or white clay. This contains chamotte, a kind of sand which reinforces the resistance of the vases.
Chamotte is also used in vases over 60cm. White clay vases or large vases therefore have a more grainy appearance.
This vase designed by Tristan Auer is unique! Only one size and in only one clay color, the white clay. Diameter 67cm and height 70cm. Completely handcrafted.
With his ULURU collection, composed of 2 vases, a basin, a stool and a champagne bucket, Jean Marie Massaud signs more than a collection. A moment of life in the open air, moments of conviviality shared in the shade of olive trees and pines.
The Damier collection by Olivier Gagnère is designed in undercut and available in 4 models; Jar height 46cm, vase height 54 or 70 cm and the largest vase height 87 cm.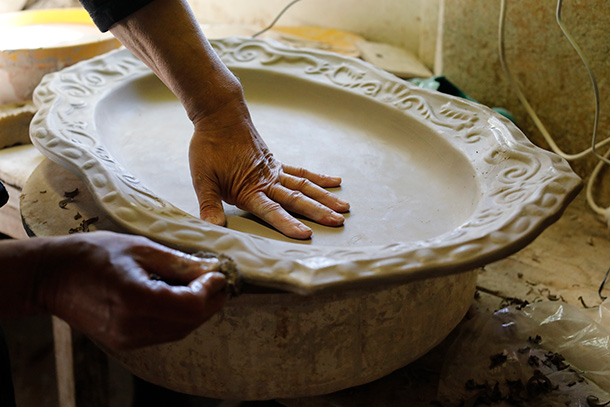 The crockery is sold only at our factory in Aubagne.

Poterie Ravel is better known for its collections of garden pots than for its tableware. And yet, the factory has been producing tableware since it was founded in 1837.

Real little gems to discover.

Very classic table services such as the "old Marseille" service, tians of all colors for tapenades, salads, pitchers, huge dishes for pasta or anchoïades, cooking dishes...

Each year, Maison Ravel launches new products that blend with more traditional products.