Beyond the gesture that Poterie Ravel masters like a good craftsman, it remained to be daring.
Meetings with big names and artist residencies encourage audacity...
Pièce unique réalisée par Mr Christian Lacroix
Vases en cours de préparation pour la résidence de Mme India Madhavi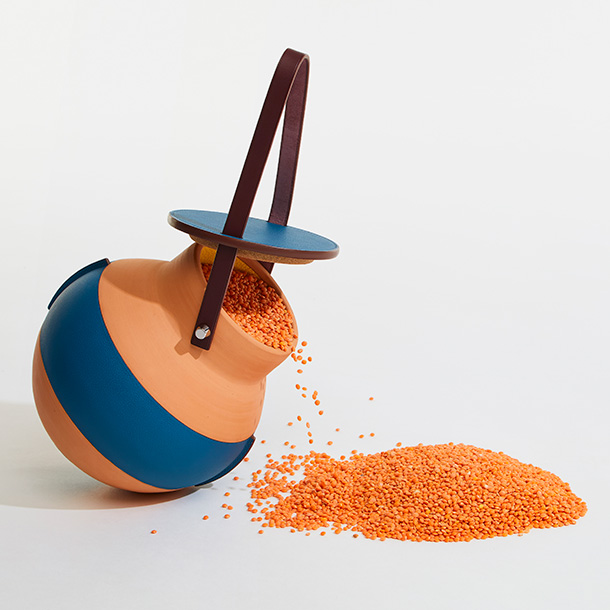 Petit H - HERMES In 2021, the petit h of Hermès workshop is creating, with the complicity of pottery artisans from the Ravel factory, a series of unique objects sold exclusively in Hermès stores.

Combining, adjusting, assembling what is not alike, marrying forms and materials that do not go together, these are the detours of the method followed by the workshop. Like the Petit h objects, these subtly crafted earthenware radiates the creative detours they have taken.

Photo credit Guillaume Grasset©Hermes2021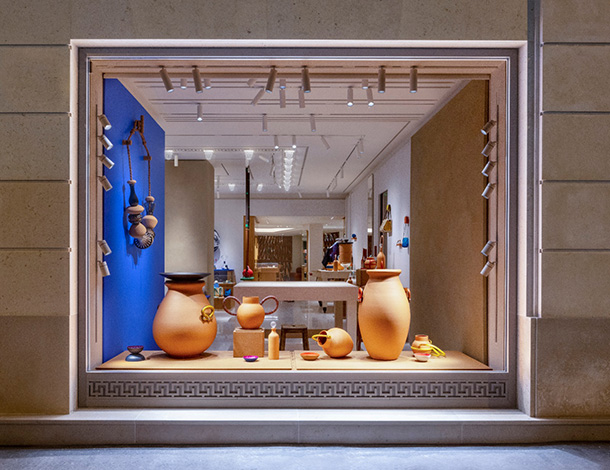 DEBEAULIEU

Debeaulieu, florist artist, sublimates bouquets of flowers. His compositions are crazy, in bouquet vases or in large pots. During the Villa Noailles festivals, his stages vases divinely.

KIRSCH

Emile kirch, a tangy photographer, knows how to play hard with fluorescents, fades, blurs. A work full of modernity and romanticism. So this meeting between the florist, the ceramist and the photographer gave a series of fresh and surprising shots. Photo credit Emile Kirsh


Photo credit Emile Kirsh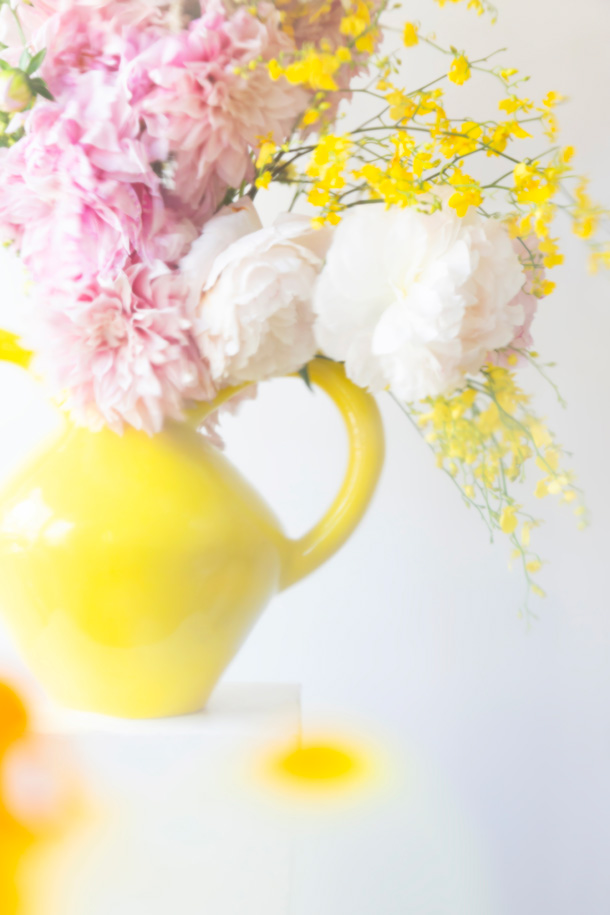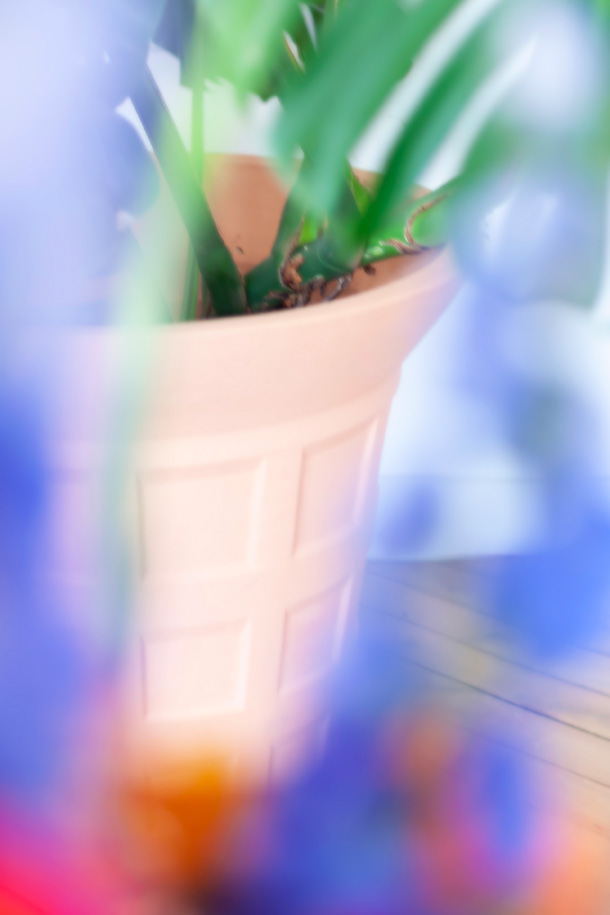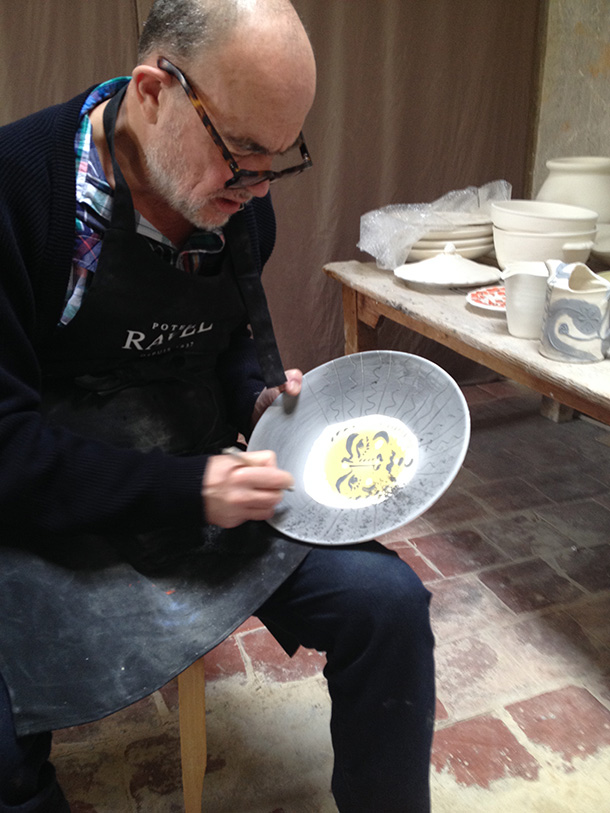 In April 2015, in residence at the Poterie Ravel in Aubagne, Mr Christian Lacroix designed and signed the collection of unique ceramics "Mythology".
He first wanted to work on the emblematic shapes of the Factory and then on a few other pieces specially created and made with four hands with our potter Thierry Lachaume.
Matte or shiny enamel, incisions or layering, engobes, brushes, pipettes, Christian Lacroix has tried all the possibilities, all the improvisations and experiments to instinctively find traditional techniques and decline his own cosmogony, the universe of Mediterranean mythologies that are dear to him where the Sun sometimes darkens over heroes and heroines of the South while the Moon shines with a whole constellation of benevolent stars.
"I have often said how symbolic my astrological sky in Arles seemed to me. Taurus rising Leo, Venus and the Sun, earth and fire... clay and the kiln... Terracotta, pottery and ceramics therefore seem to be inscribed in my deep genes. »
For several years, Gérard Traquandi, painter, sculptor, photographer, has been honoring us with his presence in episodic residencies.
When he comes to our workshops to make his monumental jars, his magnificent wall frescoes, he teaches us to shake up our artisan codes.
"I found here a magnificent place steeped in history, but above all workers of great skill, accompanied by real kindness"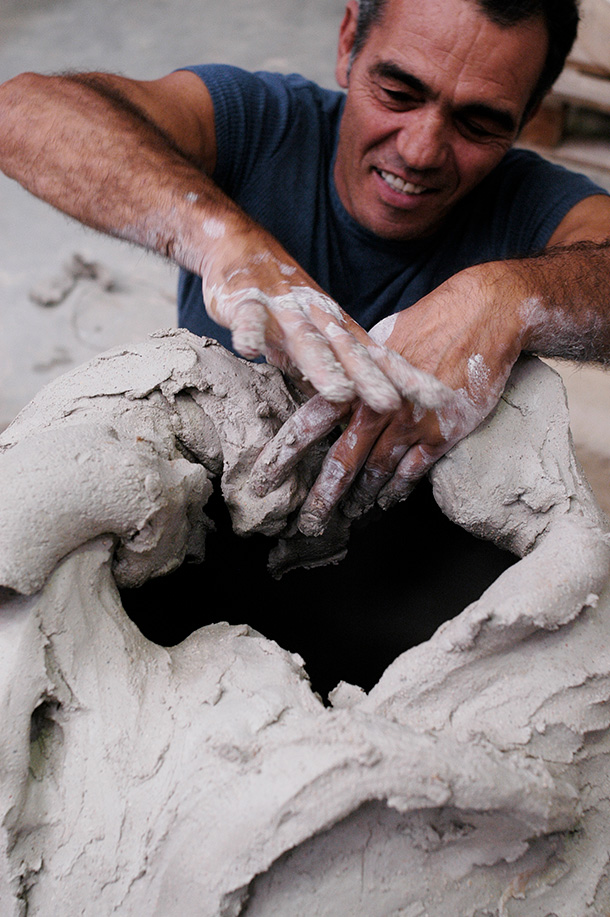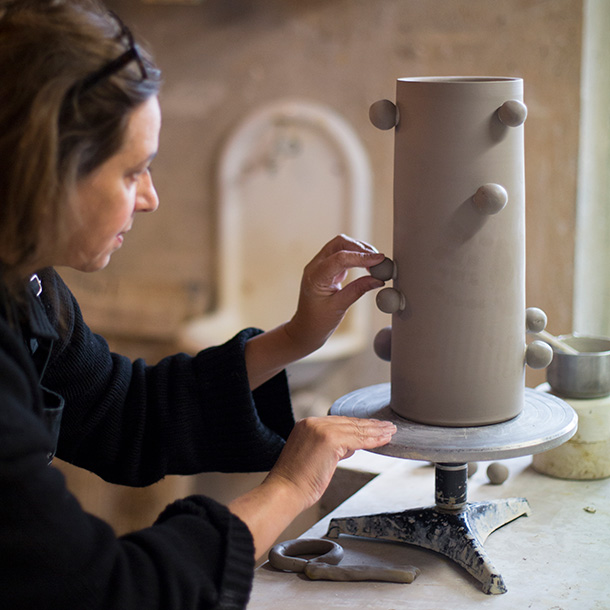 India Mahdavi has an approach to ceramics that we love. She defines it very well as being the most sensual material: "Its warm or cold qualities, its masculine or feminine aspect, its classicism or its modernity… an infinite nobility, it is our land".
For her first residency, India created unique pieces by drawing in enamel on tube vases, turned by Thierry Lachaume, our potter. She also designed the "Marble" collection, bouquet vases with balls, plain or multicolored.
The Marble collection and the limited series made by India Mahdavi are on sale in her showroom - 3 rue las Cases 75006 PARIS.
Matthieu Cossé is a designer born in 1983 in Paris where he lives and works. He had the opportunity to exhibit his work at the Quadrilatère de Beauvais, at the Albert Chanot center in Clamart, at Mains d'oeuvre in Saint-Ouen, at the Capucins center in Embrun and at the Design Parade in Toulon.
Pieces made by Matthieu are on sale at our Manufacture.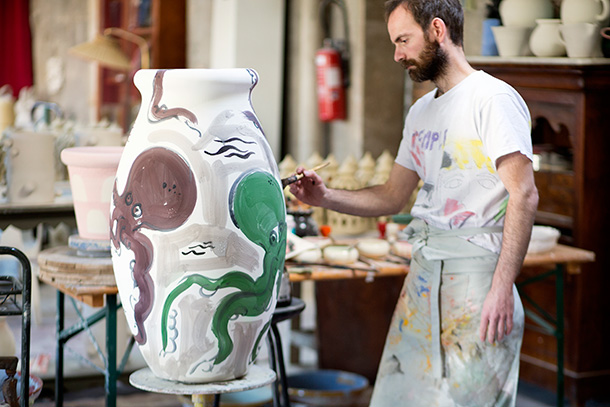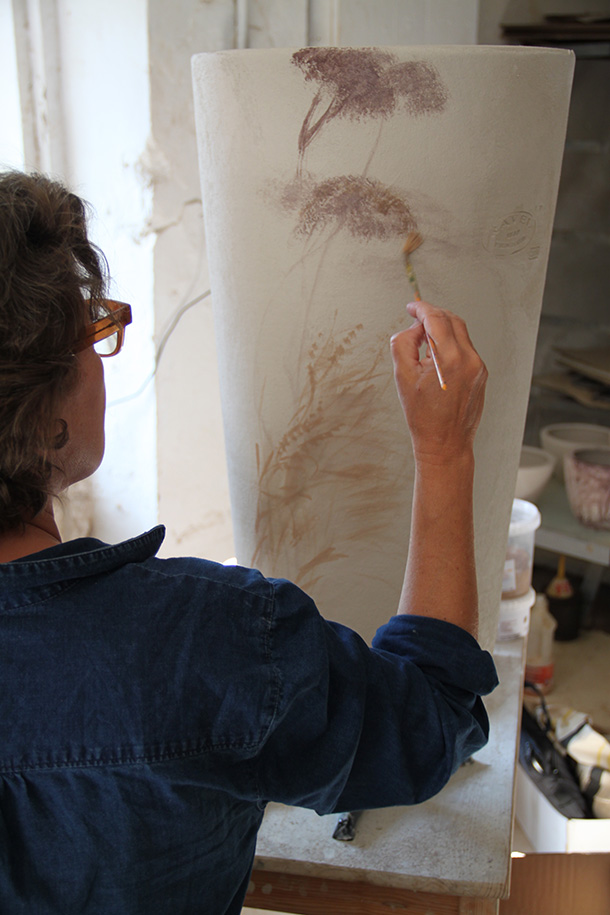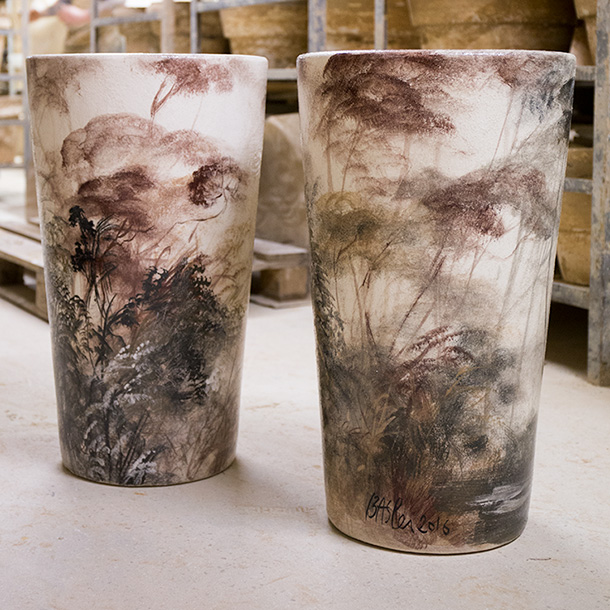 Claire Basler is a rare woman and artist
Her residence within the Pottery began a very hot summer. She was looking for a manufacturer of large vases to create Barbotine decorations, obviously vegetal.
Claire is the romantic world of the flower, of the tree. She knows how to paint them on all supports with incomparable mastery. Delicate, effective, it takes you into its magical universe.
Her showroom is the Château de Beauvoir, a unique place! All the walls feature her incredible work. She is not afraid of anything, paintings of all sizes, vases and also plates.
She made a unique collection of 100 plates, all different, for an English mansion.
Pierre Marie is a draftsman, artist and decorator.
Met thanks to the villa Noailles in 2018, Pierre Marie, by working on the assembly of basins and vases to form new shapes, has once again proven his intelligence of shapes.
He chose and had potters make clay elements, modifying them very slightly. The bold and precise stacking fit perfectly into its enchanting and lush universe.
A sweet, surprising encounter that leaves us with only beautiful memories.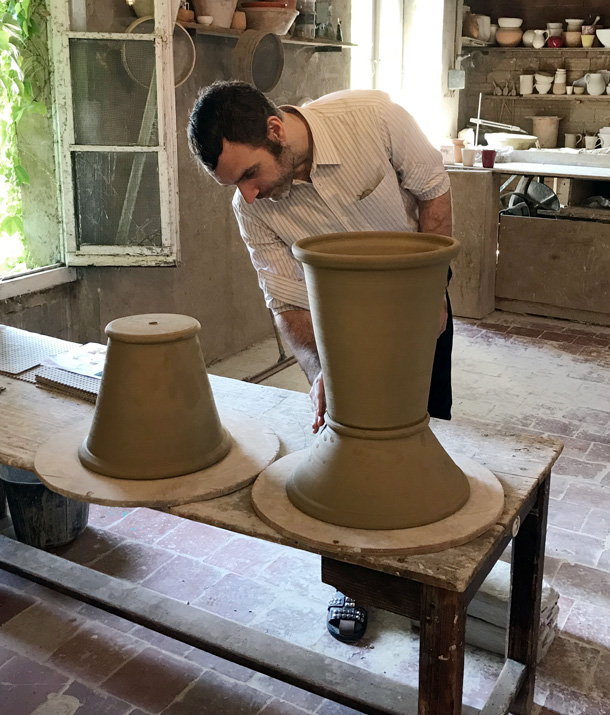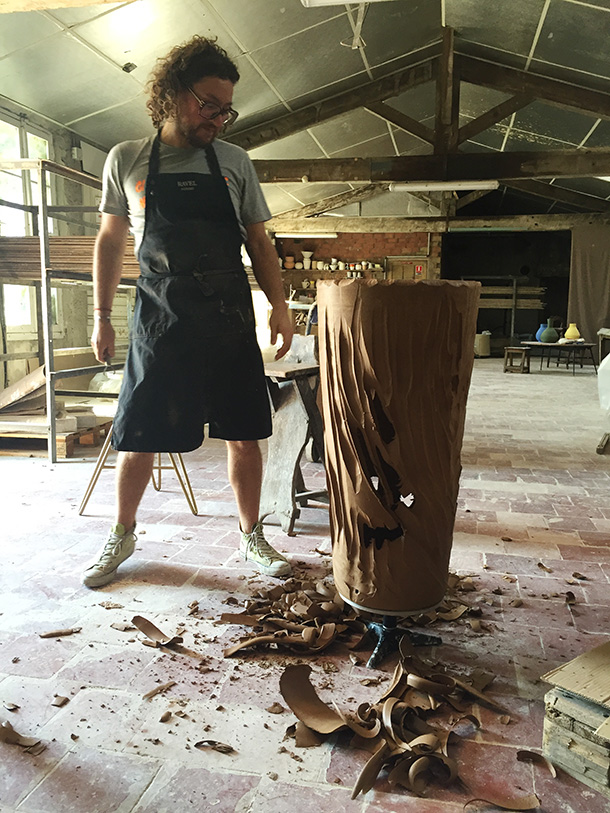 Born in 1978 in the United Kingdom, he studied at the prestigious schools Central St Martins and the Royal Academy. He lives in London where he opened an artist residency and set up the "Mud Museum" project; a museum of the earth, not to say contemporary ceramics.
He has, among others, exhibited at Rod Barton Gallery (London), Transition gallery (London), Rowing Projects (London) or Leclere Mdv (Marseille).
Unlike today's world - and the art world in particular - a production linked to a local tradition is not linked to the idea of progress at all costs. To be attached to it is to take a humble look at the transmission of know-how. Humility is indeed what characterizes the practice of artists who, like Robert Rush, move away from the great capitals in order to reconnect with a global history of humanity, before this is thought of in terms of progress and of improvements.
Robert Rush and Ravel is a dialogue between vernacular and contemporaneity; the incarnation of coexistence and humility with respect to pre-existing forms. Charlotte Cosson & Emmanuelle Luciani / Art historians & curators.
Filipe Jardim specializes in fashion and travel illustration, spending half the year in his hometown of Rio de Janeiro and the rest touring the world.
Filipe first came to prominence when he was asked to produce the Rio de Janeiro travel diary by Louis Vuitton. This beautifully produced book was the perfect showcase for his work and led to further commissions for Hermès and Issa.
In 2019, he showed up at La Poterie with all his smile, his good humor and his talent as a colourist. He wanted to try his hand at ceramics. He made magnificent large dishes, full of sunshine and joy. An unpretentious rare man with an exotic and unique human sense.